One of the very nice things about unschooling is that I'm no longer
trying
to get anyone to learn anything. Any parent, but perhaps especially a homeschooling parent, feels a constant underlying stress of being responsible for how their children "turn out."
So a lot of interactions that could just be nice interactions where we enjoy each other's company end up being colored by a sense of "let me use this opportunity to teach xyz" or "to explain abc" and then there is an agenda.
Schools and educational philosophies have agendas. When I took an education course, it was full of educational goals and "the learner will..." And
knowing our goals
gives us the most chance of
achieving them
. I have advocated and still believe in taking a lot of time to think about what your goals are with regard to your children so that you can prioritize your time, energy, and educational efforts effectively.
But I admit it is mentally exhausting to be agenda driven when interacting with my children, and ironically, it's usually the times when I have no goals at all other than being fully present and spending time with my child that things go best. That is one of the points that unschooling makes (called "
deschooling
"). Quote: "
Look directly at your child. Practice watching your child without expectations. Try to see what he is really doing, rather than seeing what he's NOT doing. If you hold the template of "learning" up and squint through that, it will be harder for you to see clearly. Just look."
Strewing. When I first started unschooling, I read about this thing called "strewing" which means that you place educational objects around and the kids end up picking them up. I thought this was brilliant, because the kids learn when
they
want to. And strewing is a big part of unschooling.
But. It also can be agenda driven. And if I'm trying to relax and see what my child is interested in and not be subtly trying to direct his energy into "productive" and "educational" places, then strewing has the potential to mess with that vibe. So I did put up maps when they were requested and the Periodic Table when requested. And I put up body systems because I love that stuff. And the names of the Parshios. And a Jewish History timeline that keeps falling down for some reason.
Recently I bought a multiplication chart poster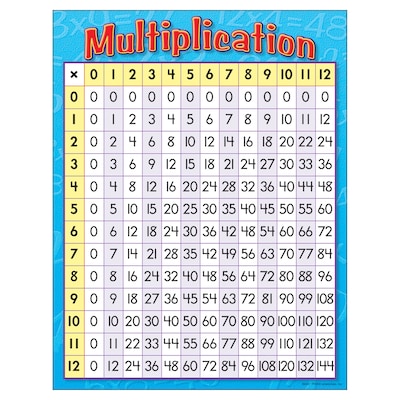 because I felt the boys were interested in multiplication and their brains were kind of yearning for it. (Although I deeply, deeply believe in rote memorization of multiplication, it is not going along with unschooling and I think they are going to end up with their calculators.) I do find the kids clustered around, studying it. They call me over and ask me questions. They notice patterns.